Naples, Fla. – Bartley Forrester sits in second place individually after opening with a 6-under-par 66 Sunday, leading 11th-ranked Georgia Tech to a 7-under-par total of 281 at Calusa Pines Golf Club, good for second place after the first day of the Calusa Cup.
One of seven top-25 teams in the limited nine-team field, the Yellow Jackets recorded three birds on the par-5 18th hole to keep pace with 16th-ranked Florida, who shot 12-under-par 276, in their bid for a fourth victory this year. Forrester, who won co-medalist honors at the 2020 Puerto Rico Classic as a freshman, is looking for his second collegiate victory.
TECH LINEUP – Continuing the best stretch of golf in his Tech career, Forrester matched his low round of the spring and established his best in relation to par with his 66. The junior from Gainesville, Ga., strung together six birdies and no bogeys on the back nine of the par-72, 7,320-yard Calusa Pines Golf Club. He finished his round with the clubhouse lead and held it until the final group of the day finished its round.
sophomore Christo Lamprecht (George, South Africa) overcame a pair of double-bogeys at the start of his round to play 6-under-par over the remaining 16 holes, posting a 2-under-par 70. He is tied for ninth place. senior Ben Smith (Novi, Mich.)making his second straight start, shot even-par 72 and is tied for 17thwhile junior Ross Steelman (Columbia, Mo.)who missed Tech's last event due to mononucleosis, added a 1-over-par 73 for the Jackets and is tied for 21st.
junior Connor Howe (Ogden, Utah) didn't count for Tech Sunday after posting a 78.
Bartley Forrester is one stroke off the lead after firing a 6-under-par 66 Sunday.
TEAM LEADERBOARD – No. 16 Florida rode a 65 from its top player, Ricky Castillo, and two other under-par rounds to post a 12-under-par score of 277, taking a five-shot lead over the Yellow Jackets (281, -7).
no. 17 Wake Forest sits in third place after posting a 3-under-par 285, followed by No. 8 Georgia (287, -1). no. 23 Purdue and top-ranked Oklahoma are tied for fifth at 290, +2). Marquette has seventh place alone at 292 (+4), while Iowa and No. 22 Clemson bring up the rear at 296 (+8).
INDIVIDUAL LEADERBOARD – Florida's Ricky Castillo eagled the par-5 18th hole to leapfrog Georgia Tech's Bartley Forrester for the lead after round 1, posting a 7-under-par 65 to Forrester's 6-under 66.
Jacob Bridgman of Clemson, the 19th-ranked player in the nation, and Ben Van Wyk of Georgia are tied for third place at 4-under-par 68. The Gators' Fred Biondi, the nation's No. 3-ranked player, Georgia's Trent Phillips, ranked No. 12, Oklahoma's Drew Goodman and Wake Forest's Clay Sirsman are tied for fifth place at 3-under-par 69.
Tech's Christo Lamprecht, the Jackets' highest-ranked player nationally at No. 37, is tied for ninth at 2-under-par 70 with Michael Brennan of Wake Forest, Tyler Wilkes of Florida, Mac McClear of Iowa and Cole Bradley of Purdue.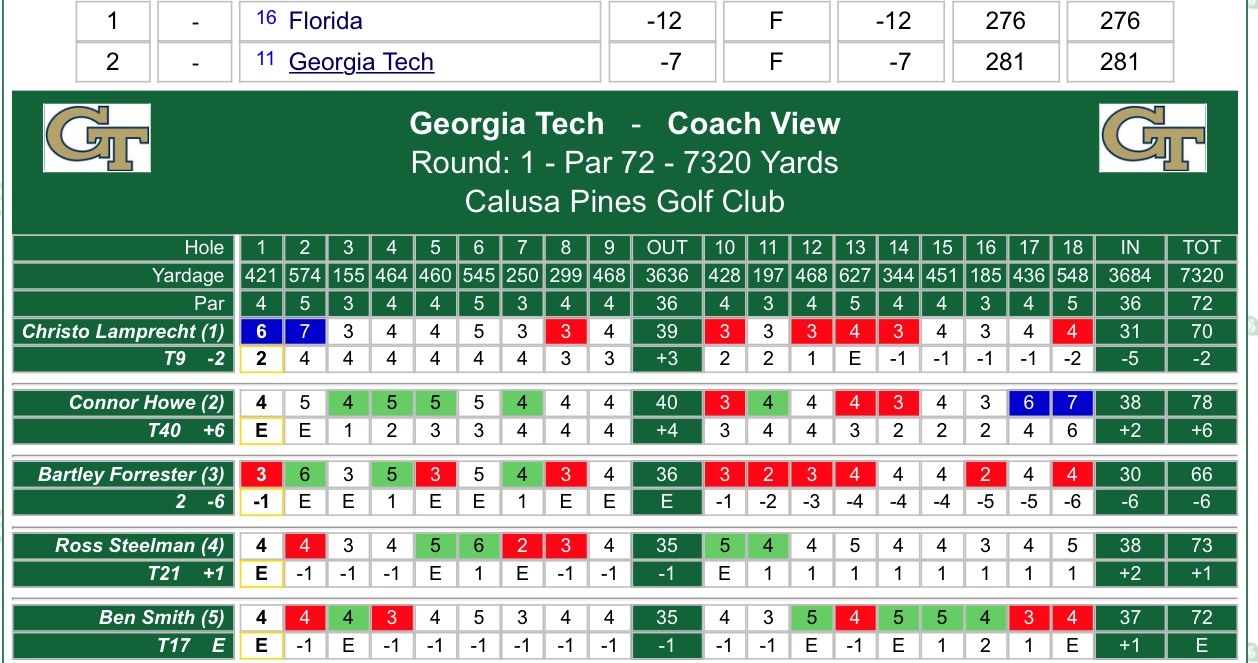 TOURNAMENT INFORMATION – Georgia Tech competed in the inaugural Calusa Cup last spring and earned a runner-up finish behind top-ranked Oklahoma. The event features a limited, but strong field with seven of the nine teams currently residing in the top 25 of the Golfstat rankings, including No. 1 Oklahoma, No. 8 Georgia, No. 11 Georgia Tech, No. 16 Florida, No. 17 Wake Forest, No. 22 Clemson, No. 23 Purdue, Iowa and Marquette. Seventeen of the nation's top 100 players are in the field.
The tournament is contested at Calusa Country Club, which measures 7,320 yards and plays to a par of 72. Play begins at noon Sunday and 1 pm Monday, with the final round starting at 7 am Tuesday. Each team will have five players competing with the low four scores counting toward the team total each day, and the tournament will be 54 holes, 18 each on Sunday, Monday and Tuesday.
---
"This is a great test of golf here, and our guys like the challenge. The conditions are severe at times and the rounds are long, but we did a good job of handling it today. Bart played a great round and Christo played very well after the first two holes. It was great to have Ross back, he and I played well. We just need to get Connor going."
Head coach Bruce Heppler
---
Alexander-Tharpe Fund
The Alexander-Tharpe Fund is the fundraising arm of Georgia Tech athletics, providing scholarship, operations and facilities support for Georgia Tech's 400-plus student-athletes. Be a part of developing Georgia Tech's Everyday Champions and helping the Yellow Jackets compete for championships at the highest levels of college athletics by supporting the Annual Athletic Scholarship Fund, which directly provides scholarships for Georgia Tech student-athletes. To learn more about supporting the Yellow Jackets, visit atfund.org.
ABOUT GEORGIA TECH GOLF
Georgia Tech's golf team is in its 27th year under head coach Bruce Heppler, winning 68 tournaments in his tenure. The Yellow Jackets have won 18 Atlantic Coast Conference Championships, made 29 appearances in the NCAA Championship and been the national runner-up four times. Connect with Georgia Tech Golf on social media by liking their Facebook page, or following on Twitter (@GTGolf) and Instagram. For more information on Tech golf, visit Ramblinwreck.com.